If I had a penny for every time I was asked what is the best thing someone can do to grow their business I probably would have more than the current Powerball Jackpot. I have given the same answer universally each time. Without a doubt, the most important thing you can do to quickly grow your real estate business is NETWORK. Networking has a bigger impact than education (barely), marketing and anything else you do for your business.  Not only is networking a short cut to success but it also helps build long term relationships.  These relationships are the key to your business.  Networking is something that investors know they should focus on but rarely do enough of.  By making networking a priority you will not only gain more contacts but also gain more deals.  I have personally done deals with people I have met while networking. Deals I would never had a chance to be involved in without the connections made while networking. The deals referred to me from networking connections tend to be better and more in my wheelhouse. Regardless of where you are in your business you need to constantly focus on networking.  Here are a few of the impacts of networking as well as some of the best ways to get started.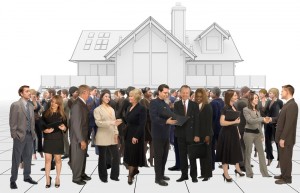 Why Network? BENEFITS!
Education. We are all unique individuals and all have different paths we choose to follow even inside the world of Real Estate. You can spend countless hours online gathering education but nothing replaces real world experience.  (Read that last sentence again) There is truly something to be gained by listening to everyone you talk to.  By listening to the people in your network you will gain your own unique perspective.  You may pick up a way to invest that you never previously thought of.  You may avoid a certain market that you learned is having trouble.  By simply exposing yourself to as many contacts as possible you will gather invaluable education.
Team Building/Contacts. Investing in real estate is without argument a team sport. Those that choose the "lone wolf" route may find some small success, to truly make it, one must have a good team. Even though you are in business for yourself you can't do it all alone.  One of the first benefits of networking is the number of contacts you gain. Every person you meet in the business most likely has a handful of personal contacts.  When you meet one person you could gain access to everyone they know.  Getting to this point takes time but is certainly a possibility, so you must stick with it. The quicker you can call a contractor or realtor if you have a question the stronger your business is. Have an emergency HVAC repair? Electrical need? No need to blindly call people and be put at the bottom of their wait list.
Deals, Deals, Deals. You are smart, and it doesn't' take a genius to realize that with more people in your "circle" the larger your access to potential leads and deals. The real estate business is a numbers game.  I have often said you might have to talk with 50 people to find 5 worthy of a follow-up. The same is true with deals. The vast majority of leads are not even close to being "DEALS", and you have to sift through them to find the jewels. With increased contacts you have several people that could potentially bring you deals.  You never know what investor you meet has an overflow of properties they want to get rid of.  An attorney you become friendly with may know an investor looking to partner up on future deals. An attorney that does evictions, might know a frustrated landlord wanting to sell.  The greater the number of contacts the more deals that could come your way.
Ok, So I Need to Network, but WHERE?
Investment Clubs. If you are looking for the best place to network start with local real estate investment clubs.  But not all created equal. The key is to NETWORK. So avoid the ones that frown on allowing attendees to talk, and those that focus solely on a travelling guru that comes in to just sell you something. Clubs are all around, and you need to get to many to learn which ones are of the best benefit to you.  Attorneys, mortgage brokers, hard money lenders and fellow investors are all represented usually at the best groups.  Not only will you take something from the education at these meetings but you will meet tons of different people.  These people can range from 20 years' experience to just starting out.  Investment club meetings are the perfect place to find a new contact or to enhance an existing relationship, but you have to attend regularly. Going once and never attending again will not get it done. You must put in the effort to truly build relationships with others in attendance. For those in the Greater Chicago area, we HIGHLY suggest the WCRT. Get details at http://www.WCRT.org.
Local Networking Meetings. Successful people often do things they don't want to do.  One of those things is attending local networking meetings.  For just an hour or two a week you are exposed to numerous contacts in your industry.  Even if your last four meetings seemed like a waste of time you never know who noticed you. A large KEY to networking success is consistency. (Have you noticed how much I stay on this point?)  Showing up at one or two meetings will not yield immediate results.  It is when you show up every week for months that you may start seeing people reach out to you.  Local meetings have people who are in your local market looking for others to connect with.  It may not be your ideal way to spend a Tuesday morning but it could have a big impact on your business. LOCAL is key! Remember the number one rule to real estate is Location, Location, Location after all.
Everyday Moments. There are many networking opportunities around you every day.  Everyone you talk to is a potential networking partner.  People like to work with people they are comfortable with.  Almost everyone you come in contact with should know you are involved in real estate. You don't necessarily need to come right out and say it but they should know.  These could be the parents on your children's sports teams, friends, family and co-workers.  At the coffee shop, the bar, the restaurant, dropping your kids off at school, etc. You can grab a business card from the wall the next time you are at the car wash or picking up a pizza.  You could spend two minutes putting a post on social media. There are several little things you can do every day that will put you on someone's radar.  Once you have their attention you can set up a meeting and work on becoming a contact.
There is no excuse not to take a few minutes and network every day. If you put the time in IT WILL PAY DIVIDENDS IN THE END.  These results are sometimes immediate but most will have a long lasting impact.  If you hold up your end of the bargain on a deal you can bet people will want to work with you again.